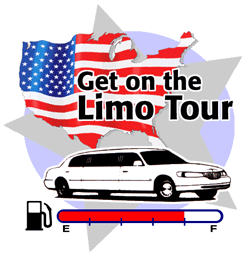 Get on the Limo!
This summer, the Billionaires are hitting the campaign trail in style! Kicking-off at the DNC in Boston on July 28th, we're taking our limo (yes, for real) through the crucial Midwest swing states to tell voters the good news: forget job losses, no-bid contracts and sky-rocketing healthcare costs, Dubya and Dick are the best friends Billionaires have ever had in the White House. Four more years! Four more wars! Click here for detailed information.
Help Keep the Tank Full: Donate Now!
Thanks to your large donations, we've raised enough money to launch our limo tour on July 28 at the DNC. But we still need to raise thousands of dollars to make it through the month-long tour and arrive at the RNC in style.
We know that true Billionaires expect perks and kickbacks, so we've devised the following "thank you" scheme for our most esteemed donors.
As a 527 we are authorized to accept donations in all amounts — no amount is too small or too large! Even donations of $10 or $20 dollars go a long way.

Billionaires for Bush is also grateful for in-kind donations of office space, limousines or local limousine rentals, frequent flyer miles or airfare, hotel accommodations and gasoline.
Are you on the limo or off the limo?