Billionaires for Bush, advocates for the corporate elite, proudly auction off
<![if !supportLineBreakNewLine]>
<![endif]>
SOCIAL SECURITY

This is an eBay EXCLUSIVE!


Due to the surprising failure of carefully staged "conversations" across America to convince the American Public that Privatizing Social Security is a good thing, we have decided to take matters into our own hands.

As a favor to President Bush and offered exclusively here to the winning bidder who meets our reserve, (must be a private Brokerage Firm, see details below) Billionaires For Bush can't wait to pull the switch on retirement security by circumventing Congress, the Will of the People, and good sense. Why not cut right to the chase?

Concurrent with White House Goals and the Cato Institute, we're
AUCTIONING OFF SOCIAL SECURITY!

(Please note: Qualified bidders must be a Wall St brokerage firm! See disclaimer below.)
Facts:

$ Itís the governmentís most popular program.

$ Itís running a huge surplus.

$ It disbursed $492 billion to retirees, their survivors, the disabled and orphans in 2004ó47 million people in all. And very few of those were CEOs!

$ It delivers money straight to those who have paid into the fund, leaving brokerage houses completely out of the loop.
Benefits:

$ Right now the system pays benefits to retirees, widoweds, disabled people, and orphans.

$ It is also one of the cheapest and most cost efficient government-run systems.

$ BUT, there is a major flaw in all of this; Wall St. isnít cut into the deal!

$ Bid today and put Social Security on the market! It may be a gamble for the many, but itís a sure thing for the lucky few here on Wall St Ė we make our commissions whether the market goes up or down!
Pics:

This could be yours!
<![if !vml]>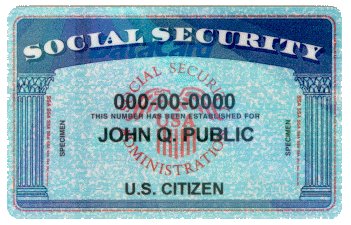 <![endif]>

This could be you!
<![if !vml]>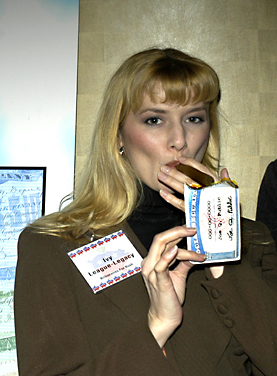 <![endif]>

Would make a GREAT Private School!
<![if !vml]>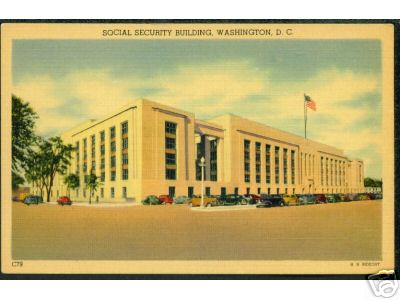 <![endif]>
Sold AS IS
Wear and Tear Q & A:

Q: The system was created in a different era to handle different needs, isnít it time we destroy it?

$ In fact, at 70 years old, the system is still one of the most successful in American History!

Q: Isnít the system on the verge of failing? President Bush said so. He wouldnít fudge the facts, would he?

$ Donít believe the rumors. Like the war in Iraq, sometimes the President has to play with the facts to sell his policies to the American People. As a possible bidder, you deserve the truth:

Currently at a surplus, Social Security will only go broke if you calculate the numbers using the ďinfinite horizonĒ scale.

By that same measure Ė making George Bushís tax cuts for the wealthy elite permanent would cost the American People $20 trillion!

Hey, thatís a good idea! President Bushís tax cuts = $20 trillion the wealthiest 1% DONíT have to pay supporting things we donít use like affordable health insurance, mass transit, public education, and body armor for our troops!
Huzzah!
Risk:

$ What risk? Wall St. stands to earn as much as $279 Billion in fees in the first 10 years alone!

Thatís money being wasted in the pockets of the elderly and infirm too weak to go out and spend it today.
Shipping:

$ Also known as transition costs transferring fees are estimated to cost an average of $4,900,000,000,000 (thatís almost $5 trillion) in the first 20 years alone!

$ But donít worry! All transition fees will be covered by the American Public!
What You Get:

$ Winning bidder (to repeat, you must be a Wall St. Firm (see note below) may immediately begin charging ordinary Americans:
Brokerage fees! Deposit fees!
Management fees! Service fees!
Early withdrawal fees! Fees to process fees!

New owners will be allowed to invent any new fees we havenít thought of yet!

<![if !vml]>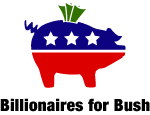 <![endif]>
Happy bidding!
Some Suggested Ways to Optimize Your New Privatized Social Program***


Brought to you by our friends at www.WhiteHouse.org ó click here and VOTE on your favorite today!
<![if !vml]>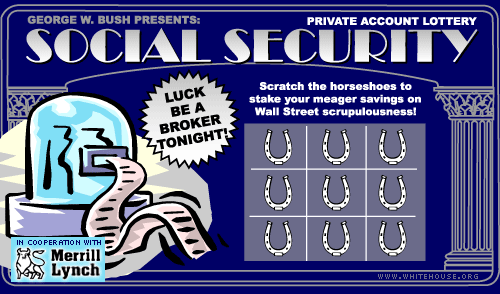 <![endif]>

<![if !vml]>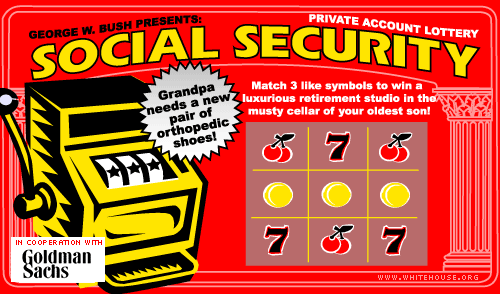 <![endif]>

<![if !vml]>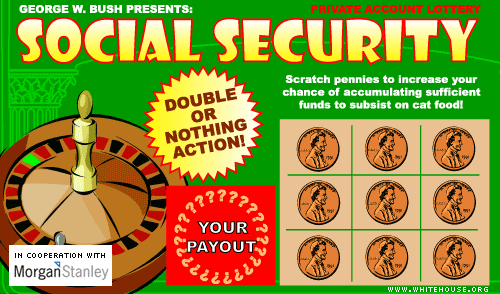 <![endif]>

<![if !vml]>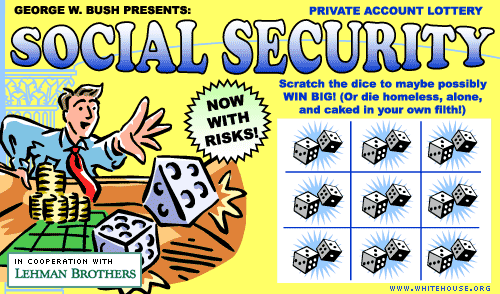 <![endif]>

***These items are not for sale or available for bid at this time, but donít worry!! Under George Bushís leadership they soon will be your ONLY chance to score big at retirement!
<![if !supportLineBreakNewLine]>
<![endif]>


Disclaimer:

Though we canít seriously auction off a revered public trust that in fact, we do not own, we do ask you to bid Ė Wall St. Firms representing Halliburton, Enron, Worldcom and other once or current corporate giants are welcomed.
FREE BONUS FOR BIDDERS!


All serious bidders will be referred to Congress and the White House for increased access and special favors!
WHO IS NOT ELIGIBLE TO BID:

Employees of government, their families, and any American citizen that actually needs Social Security, or will one day in the future, are not eligible to bid.

But, donít worry!! Ordinary Americans will remain eligible to pay your brokerage houses to manage their private accounts!


Seriously though...

Okay, we arenít selling anything but a representation of a scheme designed to turn a social insurance policy for the public into a private gamble where the only insurance left is in the billions of dollars in fees to be reaped by brokerage houses and their ilk.
---
WHO ARE WE?

Billionaires For Bush is a grassroots network of corporate lobbyists, decadent heiresses, Halliburton CEOs, and other winners under George W. Bush's economic policies. Headquartered in Wall Street and with over 50 chapters nationwide, we'll give whatever it takes to ensure four more years of putting profit over people. After all, we know a good president when we buy one.
<![if !vml]>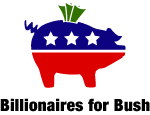 <![endif]>
Happy bidding!
WHO ARE WE, REALLY?

Billionaires For Bush is a strategic do-it-yourself media campaign using humor and street theater to expose politicians who support corporate interests at the expense of everyday Americans. Armed with tuxedos, evening gowns, hard facts and humorous spin, we highlight the economic issues that affect peopleís lives.

Our organization continues to highlight, unspin and reframe the economic issues that affect peopleís lives. Armed with tuxedos, evening gowns, hard facts and a humorous spin, we will re-engage those citizens outside of the process and reignite those within it. Stay tuned for the launch of our 2005 ďChampaignsĒ on Social Security Re-Choiceification and more.

Our proven approach consistently generates critical, issue focused media coverage.

Since January 2004, the Billionaires have garnered over 250 major media mentions in both national venues (New York Times, Washington Post, Time Magazine, CNN, FOX, NPR, ABC, CBS, etc.) and in local markets (St. Petersburg Times, Cleveland Plain Dealer, Pittsburgh Post-Gazette, Detroit Free Press, Akron Journal, etc).


HOW YOU CAN GET INVOLVED

Join a chapter! Or donate to Billionaires For Bush and support our work to defeat Bush's plan to brokerize social security.Or get involved with one of our creative projects. Itís easy and itís fun. Everything you need is on our website:



And finally, This ambitious effort to sell off Social Security coincides with our upcoming April Foolís Ball on March 31 at Crobar in New York City. We're so pleased with President Bush's scheme to fool the American public that we'll celebrate in style with the winner of the auction.

That's right: The winner who meets and pays the reserve (set at $10,000,000) will get an all-expenses-paid (not that they'll need it!) trip to New York to party with the Billionaires!

Who says we don't look out for our kind?

Check out the invite below and weíll see you there!

<![if !vml]>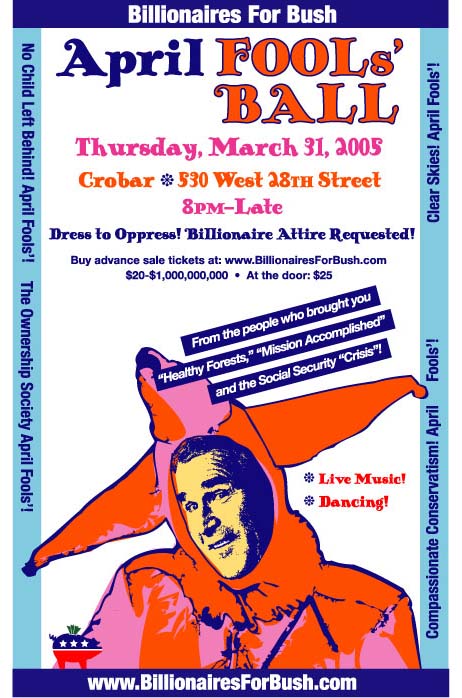 <![endif]>

Back to Top of Page
---