May 22, 2004



Billionaires for Bush are throwing a fantastic dressed-to-the-nines ball & CD release party!





Three full floors of the City Stage space in Chelsea. DJ's, comic performance, live music (featuring songs from our new album, The Billionaires Are In The House), great eats & drinks.

The ball will take place Saturday, May 22, at City Stage, 435 West 19th Street, NYC, 8pm to 4am.

This is our major spring fundraiser. We're up to 50 chapters and we're rolling on several exciting new initiatives, including a "Get on the Limo" tour through the Midwest swing states, and a Billionaires rapid repsonse network to birddog Bush & Cheney wherever they go. And for this we need money.

Tickets are from $1000 to $20. Tickets of all prices, including limited $15 tickets for those with financial difficulties, will be sold at the door. Purchasers of $100+ tickets will receive goody bags filled with billionaire merchandise, including the new CD.

This is a dressed-to-the-nines event. Come as a billionaire, be creative! Click here for fashion tips.

For more information contact ball@billionairesforbush.com.

Can't make it? Flying to Nigeria to bribe energy officials? Why not buy a ticket for a fellow billionaire who's under IRS scrutiny, or donate to the campaign!





VIP Room

7:30pm-9pm — Special VIP Event
9pm-9:30pm — Phat Mandee
9:30pm-10pm — Follies (singing)
9:30pm and on — MC Jeff Wengrofsky
10pm-10:30pm — Global Village People (skits)
10:30pm-11pm — Phat Mandee
11pm-11:30pm — Cliff Tasner, Will B
11:30pm-12:30pm — Luminescent Orchestrii
12:30am-3:30am — DJ Evan and DJ sugarkane

Second Floor (DJ Room)

9pm-10:45pm — Dj Shakey with visuals by Terri Ferrari
10:45pm-12:00am — GeoffGDAM with visuals by Giles Hendrix
12:00am-1:30am — Glass Bead Collective (Dj Paschys with vusual by Vlad)
1:30am-4am — Abdul Space with visuals by various video artists

Ground Floor (Main Space)

9pm-9:30pm — Canned Music
9:30pm-10pm — X-HMB
10pm-11pm — Open Thought
11pm-Midnight — Sharon Jones and the Dap-Kings
Midnight-12:20pm — Follies
12:30am-1:30am — Akim Funk Buddha
1:30am-3am — Ori Kaplan and the Balkan Beat Box





Billionaires for Bush is a grassroots political action committee that advocates for the rights and interests of people of absolutely fabulous wealth. Click here for an overview of our campaign.



---
New
Billionaire CD!
Stay the Course!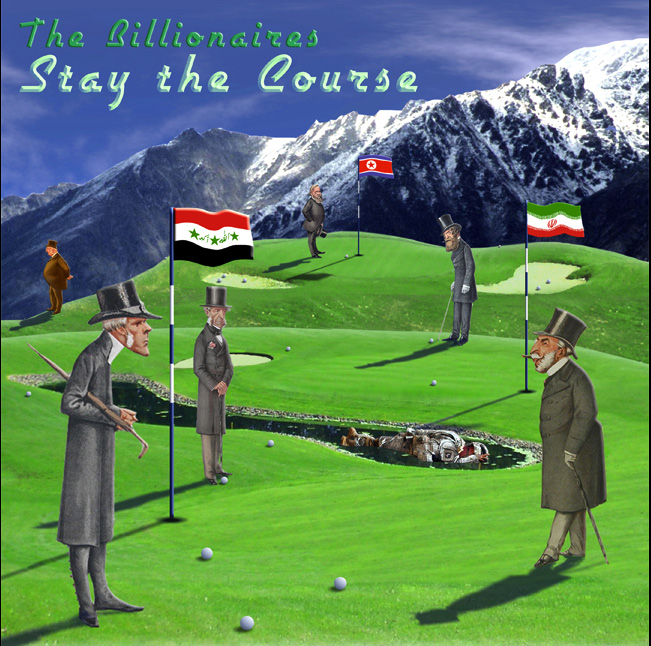 You decide
what you pay
per song!

Give 'em a listen!
Click here.
---
The
2008 Billionaire
Wall Calendar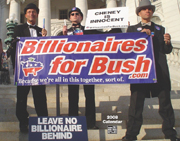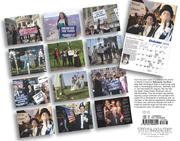 Click here.
---
Now Available
on DVD!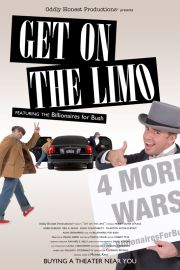 GetontheLimo.com
(Website requires Flash Player 8)
---
Whistle while you plunder: Buy our Music CDs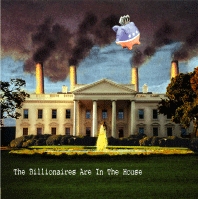 ---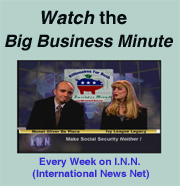 Watch the archives on the I.N.N. website, including a clip show of the first season,

---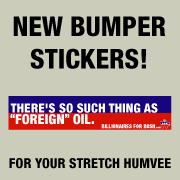 ---

Social Insecurity Calculator

See how much privatization will cost
taxpayers while we
reap billions!


---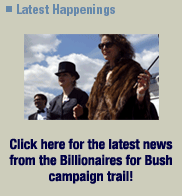 ---
Discover your
Billionaire name!
---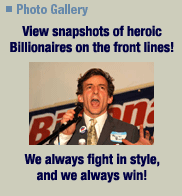 ---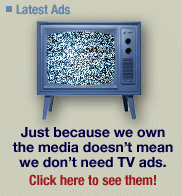 ---